Press Release
Press Release
Orient Overseas (International) Ltd
Announces 2017 Interim Results
• Group Revenue of US$2,898 million

• Group Operating Profit of US$110 million

• Core Business of Container Transportation and Logistics generated positive EBIT of US$31 million

• Profit Attributable to Equity Holders of US$54 million

• Earnings per Ordinary Share of US8.6 cents

• Interim Ordinary Dividend of US2.14 cents per share


Financial And Operational Highlights

• Group EBITDA of US$332.4 million

• Group EBIT of US$119.2 million

• Net Debt to Equity ratio at 41%

• Ocean Alliance launched Q2 2017

• First 21,413 TEU newbuilding vessel delivered in Q2 2017

• Good volume growth

Orient Overseas (International) Limited and its subsidiaries (the "Group") today announced a profit attributable to equity holders of US$53.6 million for the six-month period ended 30th June 2017, compared with loss of US$56.7 million for the same period in 2016.

The profit attributable to equity holders for the first six months of 2017 included investment income of US$21.2 million from Hui Xian and a net fair value gain of US$27.7 million on the revaluation of Wall Street Plaza.

Earnings per ordinary share for the first half of 2017 were US8.6 cents, whereas loss per ordinary share for the first half of 2016 was US9.1 cents.

The Board of Directors is pleased to announce an interim dividend of US2.14 cents per ordinary share.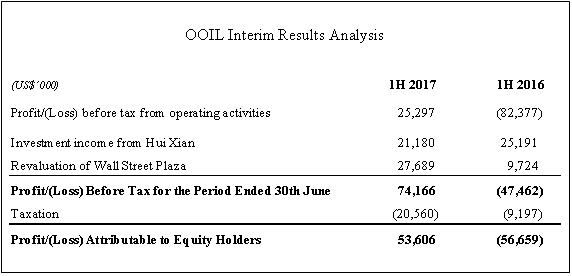 The Chairman of OOIL, Mr. C C Tung, said, "In the first half of 2017, we have begun to see a slow and steady recovery from the tough market conditions that characterised 2016. The results for the period reflect this."

"It seems that healthier demand growth has reappeared, at least to some extent. While we must wait to see how enduring this will be, this is a very welcome change from recent years. Improving data, and moreover improving sentiment, in many of the large economies gives us some comfort as to the sustainability of this better environment", added Mr. Tung.

"In tandem with this gradual improvement in demand, we note the slowdown in supply side growth. Scrapping occurred at a record rate in 2016, continuing at approximately the same pace in 2017 year to date. Orders of newbuildings have been notably absent this year so far", commented Mr. Tung.
"This steady improvement in the supply demand balance is not a sign of a booming market – we are far from that. However, it does mean that for the first time since the onset of the Global Financial Crisis, the supply demand balance is not worsening year on year. This is a significant shift, and if it holds, then the industry will at least have the chance to start to absorb some of the excess capacity that exists", added Mr. Tung.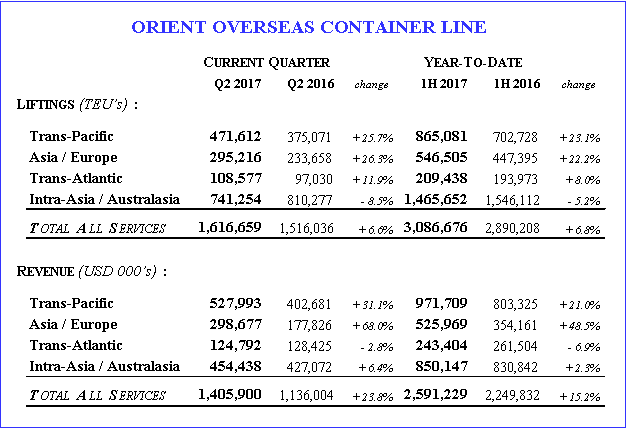 Compared to the first half of 2016, OOCL liner liftings increased by 7% and load factor by 1%. Revenue levels per TEU increased by 8%.

The average price of bunker recorded by OOCL in the first half of 2017 was US$306 per ton compared with US$186 per ton for the corresponding period in 2016. Both the fuel oil and the diesel oil price have rebounded from their lowest levels, leading to the increase in bunker costs by 64% in the first half of 2017 compared with the corresponding period of 2016.

During the first half of 2017, the Group took delivery of the first of its 21,413 TEU series of newbuildings from Samsung Heavy Industries in South Korea, namely the 'OOCL Hong Kong', marking an important milestone for the Group. With her carrying capacity of 21,413 TEU, she is the largest container vessel in the world. The delivery of the remaining five newbuildings of the same series is expected to be completed by the end of the first quarter of 2018. No orders for newbuildings were placed in the first half of 2017.

OOCL Logistics revenue and contribution for the first half of 2017 increased by 5% and 6% respectively compared with the same period last year. Due to improving global market conditions, the contribution from International Supply Chain Management Service increased by 13% and the contribution from Import/Export Services increased by 1%. Competition in the transportation sector in China remains very challenging, but we were able to counter the contribution drop in transportation with great business improvement in the long-term leased warehouses sector in China, resulting in only a 3% contribution drop of overall Domestic Logistics business.

The Group's property investments include its long-standing ownership of Wall Street Plaza located in New York. Wall Street Plaza continues to record steady results and based on an independent valuation, has been re-valued upwards by US$30 million as at 30th June 2017 to reflect an assessed market value of US$250 million. After offsetting a total of US$2.3 million improvement to the building spent in the first six months of the year, the net fair value gain for the first half of 2017 was US$27.7 million.

The Group invests in Beijing Oriental Plaza directly through holdings in the Hui Xian REIT and indirectly through Hui Xian Holdings Limited, which holds units in the Hui Xian REIT. In the first half of 2017, Hui Xian Holdings Limited declared a cash dividend and dividend in specie to its shareholders, of which the Group's shares amounted to US$21.2 million.

Mr. Tung commented on the container shipping industry, "Driven in part by the unsustainable markets of last year, but also being the continuation of a relentless trend towards scale and consolidation, the shape of the industry has changed dramatically. Following a wave of M&A, corporate reorganisations, a corporate collapse, and the change in alliance groupings implemented in April 2017, the industry continues to evolve. Over time, this may help to provide a more stable context for the industry, which is ultimately to the benefit of liner companies as well as of their customers."

Mr. Tung continued, "In this context, on the 9th of July 2017, it was jointly announced by Orient Overseas (International) Limited ("OOIL"; HKEx: 0316), COSCO SHIPPING Holdings Co., Ltd. ("COSCO SHIPPING Holdings"; SHA: 601919; HKEx: 1919), and Shanghai International Port (Group) Co., Ltd ("SIPG"; SHA: 600018) that COSCO SHIPPING Holdings and SIPG have made a pre-conditional voluntary general offer ("Offer") to all shareholders of OOIL to acquire all issued shares at an offer price of HK$78.67 in cash. The Offer is dependent upon the satisfaction of pre-conditions, which include the necessary regulatory approvals as well as approval from COSCO SHIPPING Holdings shareholders. The controlling shareholder, who currently holds 68.7% of OOIL has irrevocably undertaken to accept the Offer. On completion, COSCO SHIPPING Holdings will hold 90.1%, while SIPG will hold 9.9% of the total amount of OOIL shares tendered."

"For years, we have achieved scale benefits by means of alliance membership and the deployment of the right, often the largest, vessels in each trade lane. These techniques, alongside our highly skilled employees, our customer base, our IT system, our focus on cost efficiency and our robust balance sheet, go together to drive the success of our group. However, as the industry consolidates at speed, with the largest players now having millions of TEU in carrying capacity, the capital base necessary to operate successfully, and to establish a place among the leading industry participants, is becoming increasingly sizeable", added Mr. Tung.

"My view is that the Offer provides an opportunity for OOIL to continue to operate the OOCL brand, but as part of the China COSCO Shipping Group, and to bring together our operating model and our corporate culture with the competitive advantages of COSCO, including its size and scale, capital base, growing fleet and extensive port investments, to name but a few. This would create a combined group that would have a very strong chance of maintaining and building a status as one of the very best performers in an industry now entering a new phase", concluded Mr. Tung.

As at 30th June 2017, the Group had total liquid assets amounting US$2.3 billion and a total indebtedness of US$4.2 billion. Net debt as at 30th June 2017 was therefore US$1.9 billion, which remains at the same level as in 2016 year-end.

Mr. Alan Tung, the Group's Chief Financial Officer, said, "The Group continues to have sufficient borrowing capacity and remains comfortably within its target of keeping its net debt to equity ratio below 1:1." Mr. Alan Tung added that, "The Group is deliberate in its efforts to balance the need for a strong and liquid balance sheet, necessary in a capital intensive business, with an industry-competitive shareholder return."
OOIL owns one of the world's largest international integrated container transport businesses, which trades under the name "OOCL". With more than 330 offices in 70 countries, the Group is one of Hong Kong's most international businesses. OOIL is listed on The Stock Exchange of Hong Kong Limited.
* * *
Issued by: Orient Overseas (International) Limited
For further information contact
Peter Budd Investor Relations (852) 2833 3301
Internet address: http://www.ooilgroup.com/