Press Release
Press Release
Hong Kong, 13th March 2017
Orient Overseas (International) Ltd
Announces 2016 Full Year Results
• Extremely challenging operating environment

• Group Revenue US$5,298 million

• Group EBITDA of US$289 million

• Net cash from operating activities US$68.5 million

• Loss Attributable to Equity Holders US$219 million


Financial and Operational Highlights – Full Year 2016

• OOIL's Container Transport and Logistics business reported EBIT of negative US$185 million, representing an operating margin of approximately -3.5%.

• Liner liftings grew to 6.1 million TEU with load factor improving to 85% from 82%.

• The Group will start to take delivery of its six 20,000 TEU class newbuilding vessels as from May 2017.

• Phase I of the construction of the Long Beach Container Terminal was completed with operations commencing in April 2016.

• Continued progress in Logistics business buildout and industry-leading IT development.


Balance Sheet Highlights
• Total net debt to equity ratio was 0.42 : 1 as at 31st December 2016

• Liquid assets of US$2.2 billion as at 31st December 2016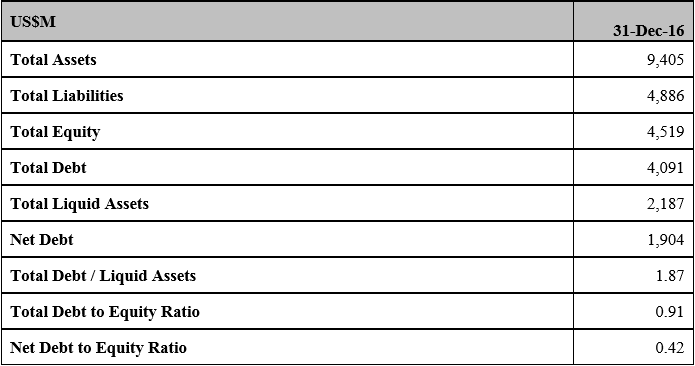 Details
OOIL Financial Results – Full Year and Second Half of 2016

Orient Overseas (International) Limited and its subsidiaries (the "Group") today announced a loss attributable to equity holders for 2016 of US$219.2 million, compared to a profit of US$283.9 million in 2015.
Loss per ordinary share in 2016 was US35.0 cents, whereas earnings per ordinary share in 2015 was US45.4 cents.
The Board of Directors does not recommend the payment of a final dividend for 2016.
The Chairman of OOIL, Mr C C Tung, said, "This past year has seen some of the most difficult markets in our industry's history. A combination of steady but low growth in most regions and an overhang of excess supply built up in recent years led to extremely challenging conditions in many trade lanes for most of 2016."
"As fuel prices rose in the second half of the year, industry performance was badly affected by freight rates that frequently sank below the levels seen in 2009," noted Mr. Tung.

"The financial results reported by the industry as a whole give a clear indication of just how severe conditions became. A quarter-by-quarter or half-by-half analysis of industry results since the middle of 2015 paints a picture of strengthening headwinds," said Mr. Tung.
"For the full year 2016, OOCL's liftings were up 9.1%, but with a drop in revenue of 9.9%. This reflects the challenging environment described above, as does the disappointing financial outcome for the year," Mr. Tung remarked.
In 2016, the Group did not take delivery of, nor did it place any orders for, any further newbuildings. As anticipated, during the year four 13,200 TEU Mega Class vessels that had been chartered out to NYK Line since 2013 were returned to the group.
"In these turbulent times, with industry consolidation occurring at a pace that few, if any, had expected, OOCL continues to build its future on the twin pillars of alliance membership and the efficient operation of the most appropriate vessels for each trade lane," continued Mr. Tung.
"We are delighted to be forming the Ocean Alliance with COSCO, CMA CGM and Evergreen. The Ocean Alliance will begin operations in April 2017. Working together with these sizeable and like-minded partners will enable us to continue to offer the highest standards in the most cost-effective manner. Moreover, the Ocean Alliance enables OOCL to grow its business in a considered and measured way," Mr. Tung noted.
"Our 20,000 TEU class vessels enter service in 2017. Our investment in these vessels demonstrates our commitment to growing our business intelligently, and allows us to gain economies of scale in all our major East West trades. At the same time, we will maintain our focus on continuous cost improvement and further efficiency gains. We continue to invest in IT, as a means of improving not only our internal processes, but also our customer interaction and engagement," remarked Mr. Tung.
"The first phase of our Middle Harbor Redevelopment Project in California commenced operations in April 2016. We are pleased with the KPI achieved thus far, and we continue to work on improving operations as we look forward to the opening of the second phase, towards the end of 2017. Final completion of the project is scheduled to occur in 2020. We are pleased to note that our new state-of-the-art terminal will be able to ensure the highest levels not only of operational efficiency but of environmental friendliness and sustainability," Mr. Tung said.
"OOCL Logistics continues to perform profitably in what is a competitive sector, and we remain committed to building up our activities in this sphere. We were pleased to add air freight forwarding services to our offering in 2016, and we continue to grow OOCL Logistics further, not least as opportunities related to e-commerce materialise," Mr. Tung added.
"The industry supply and demand balance remains one of the largest risk factors. Expectations for net growth in 2017 suggest improvement in the situation, but time may be needed to absorb the existing supply overhang," noted Mr. Tung.
"While the outlook remains uncertain, we will continue with our long-established strategy. Excellent customer service, operational efficiency, cost management, IT development and scale benefit achieved through alliance membership and careful deployment, all built on solid financial foundations," remarked Mr. Tung.
"With this approach, and with a more consistent track record than most of the industry, we believe that we can continue to grow successfully, through these challenging times, and into the upturn to come," Mr. Tung concluded.
Mr. Alan Tung, the Group's Chief Financial Officer, commented, "As at 31st December 2016, the Group had total liquid assets of US$2,186.9 million compared with debt obligations of US$601.5 million repayable in 2017. The net debt to equity ratio remained low at 0.42 : 1 at the end of 2016. We remain focused and deliberate in our efforts to maintain a sustainable balance sheet that allows the Group the ability to retain the widest degree of initiative and flexibility as a competitive edge. We are committed to ensuring an appropriate balance between adequate liquidity, efficient capital structure suitable for our industry, and sustainable returns to shareholders throughout the economic and market cycles."
OOIL owns one of the world's largest international integrated container transport businesses which trades under the name "OOCL". With more than 320 offices in 70 countries, the Group is one of Hong Kong's most international businesses. OOIL is listed on The Stock Exchange of Hong Kong Limited.
* * *
Issued by: Orient Overseas (International) Limited
For further information contact